How would it be to suddenly loose consciousness? To loose control of your own body and life? That an attack is constantly on the prowl? Director Jef Monté knows how this feels as he developed epilepsy recently. In this documentary he follows a young woman who wants to live an independent life, but who is prevented from this because of her epilepsy. The film shows the struggle she must make to get control of her own life again.
25 minutes, September 2014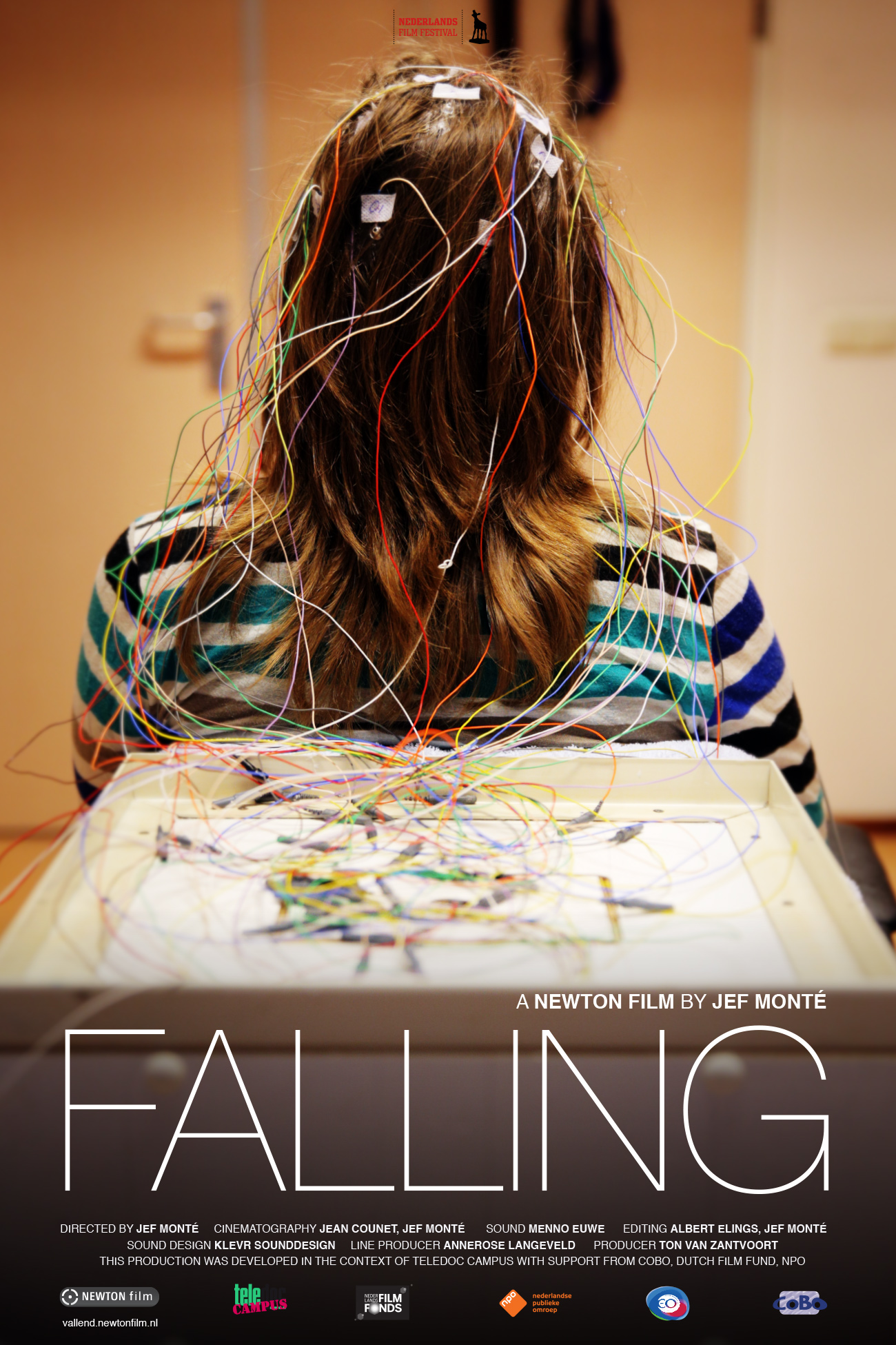 SPECIAL THANKS TO
JOYCE
ELLY
RUUD
MERIT
SOPHIE
THANKS TO
KEMPENHAEGHE
HUBERT VAN KEULEN
TECHNIEKHUYS
SUMMACOLLEGE
ROBIN VAN LING
ELLES DIJKHUIZEN
STÉPHANIE NEEFS
RIRIEN ASMARI
DIRECTED BY
JEF MONTÉ
CINEMATOGRAPHY
JEAN COUNET
JEF MONTÉ
SOUND
MENNO EUWE
EDITING
ALBERT ELINGS
JEF MONTÉ
SOUND DESIGN
KLEVR SOUNDDESIGN
MUSIC
ROY BEMELMANS
POST-PRODUCTION
LOODS LUX & LUMEN
LINE PRODUCER
ANNEROSE LANGEVELD
TON VAN ZANTVOORT
PRODUCER
TON VAN ZANTVOORT
PRODUCTION
NEWTON FILM
DUTCH FILMFUND
DOREEN BOONEKAMP
PIETER FLEURY
MIRJAM BAL
COBO
JEANINE HAGE
PETER VAN BEEK
INA VAN DER SPOEL
COMMISSIONING EDITOR EO
FLOOR KOOMEN
PRODUCTION EO
HERMA VAN BOVEN
THIS PRODUCTION WAS DEVELOPED IN THE CONTEXT OF TELEDOC CAMPUS WITH SUPPORT FROM CoBO, DUTCH FILM FUND, NPO, EO

ISAN 0000-0003-DFF1-0000-3-0000-0000-S
Festival / Omroep
Date
Time
Location
NPO 3
Zondag 17 mei 2015
–
National Broadcast
DOCfeed
Sunday 22-02-2015
17:00
Eindhoven
NFF Dutch Film Festival
Saturday September 27, 2014
Monday September 29, 2014
18:45
21:15
Rembrandt 1, Utrecht
Rembrandt 3, Utrecht

In 2008, Jef Monté graduated from the AKV St. Joost in Breda with the documentary 'Fancy suits, wet soils'. His heart is at documentary filmmaking. The reality sometimes is more strange or complicated than you could have thought. The whole dynamic process of documentary filmmaking is what attracts Jef. His subject interests are paradoxes, the significance of the past for the present, people with distance from society, music, art and culture. He gets his ideas for his films from everywhere and he finds the search for the right form just as interesting as the subject. As Jef got epilepsy on his 29th, he felt the urge to make a film about this to give insight in what it means to have this disease.